Kayaking North Florida is one of the best things about living in Gainesville. Located smack dab in the middle of North Florida, Gainesville is close to all kinds of nature-related activities. My favorite one, by FAR, is kayaking. Athletically challenged to the point of not even being able to throw a Frisbee, I have always made it my mission to avoid all sports-related activities that do not involve sitting down. Especially after the U.S. Olympic Committee delivered a stinging defeat to sitters everywhere when they declined to make lounging an Olympic event.
Then we moved to Gainesville Florida and I discovered kayaking.
Sure, I'd been once or twice before we moved here…..but living in Gainesville, within striking distance of dozens of lakes and rivers, and being blessed with a subtropical climate, lush vegetation, and TONS of wildlife, the recliner grew less and less appealing in favor of a couple of hours on the water in a boat I couldn't capsize if I tried. Here's a look at some great places to kayak within easy driving distance of Gainesville:
Ichetucknee River
One of my first kayak outings after moving to Florida? A two-hour paddle down the Ichetucknee River with Lars Andersen of Adventure Outpost tours as our guide. The 6 mile Ichetucknee is fed by 8 major crystal blue springs. All types of wildlife call the Ichetucknee Springs area home including beavers, otters, turtles, and wood ducks.
Fossils of mastodons and other extinct animals have been found in and around the Ichetucknee River. Although I didn't score any Indiana Jones moments on my trip, I did see slider turtles as big as plates and mullet jumping out of the water. Nobody knows why. Some speculate it's because of gas but the mullets weren't saying. If I had gas that propelled me out of the water and airborne several feet I'm pretty sure I wouldn't cop to that either.
Cedar Key
Located about an hour from Haile Plantation along the Gulf of Mexico, the fishing village of Cedar Key is an awesome kayaking destination. Head down to the city beach to rent a kayak from Cedar Key Adventures and take a 20 minute paddle out to historic Atsena Otie Key. Don't be surprised if you see a few dolphins on the way. Part of the Cedar Keys National Wildlife Refuge, Atsena Otie Key was the original town of Cedar Key before a hurricane and 10 foot tidal wave in 1896 broke it off from the mainland. Relax on the beach, collect shells, watch the myriad hermit crabs traverse the sand, or take a dip in the water. Or if you're feeling adventurous, hike the trail inland to see what's left of the town: a cistern, a windmill, a cemetery, and vestiges of the Eberhard Faber Pencil Mill. CAUTION: There are LOTS of mosquitos and snakes on the island. Bug spray and shoes are your friends. Paddling around Atsena Otie on your return trip takes longer but it gives you a chance to see the less visited area of the island.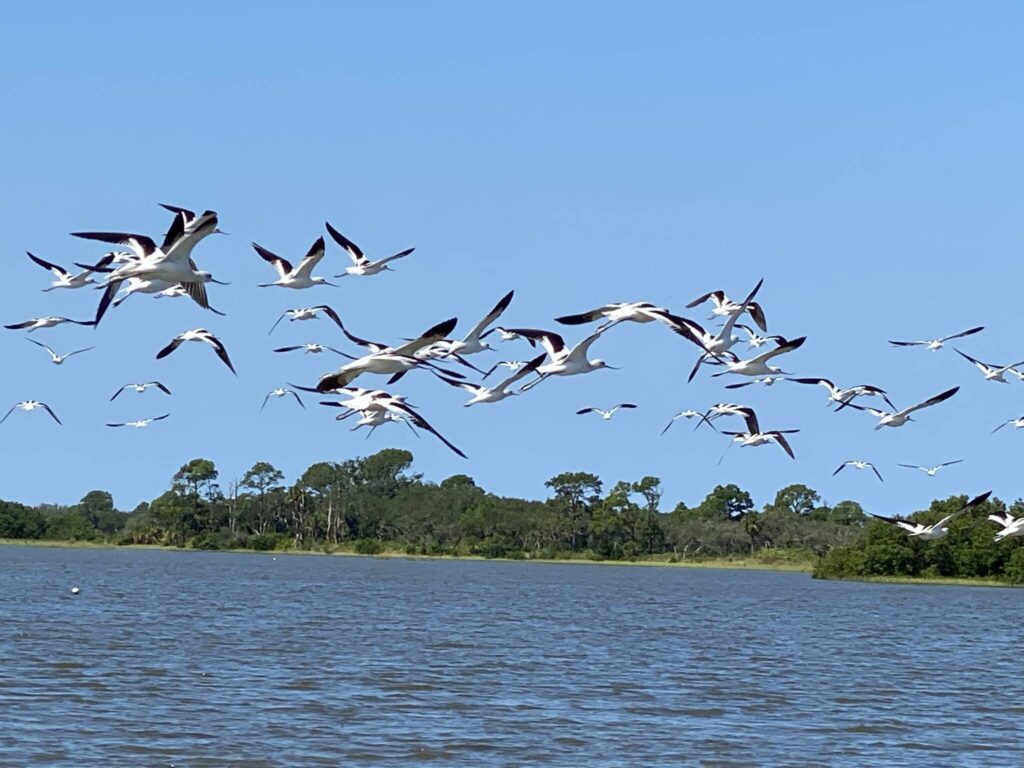 Crystal River
Ever since we figured out Crystal River National Wildlife Refuge is a great place to see manatees and it's close to home, we were hooked. We go kayaking with manatees in Crystal River several times a year. Our favorite time to go is between April 1 and November 14 when you're allowed to paddle into the aquamarine blue waters of Three Sisters Springs. Accessing the springs is prohibited for the rest of the year to protect the hundreds of manatees who gather here during the cold winter months.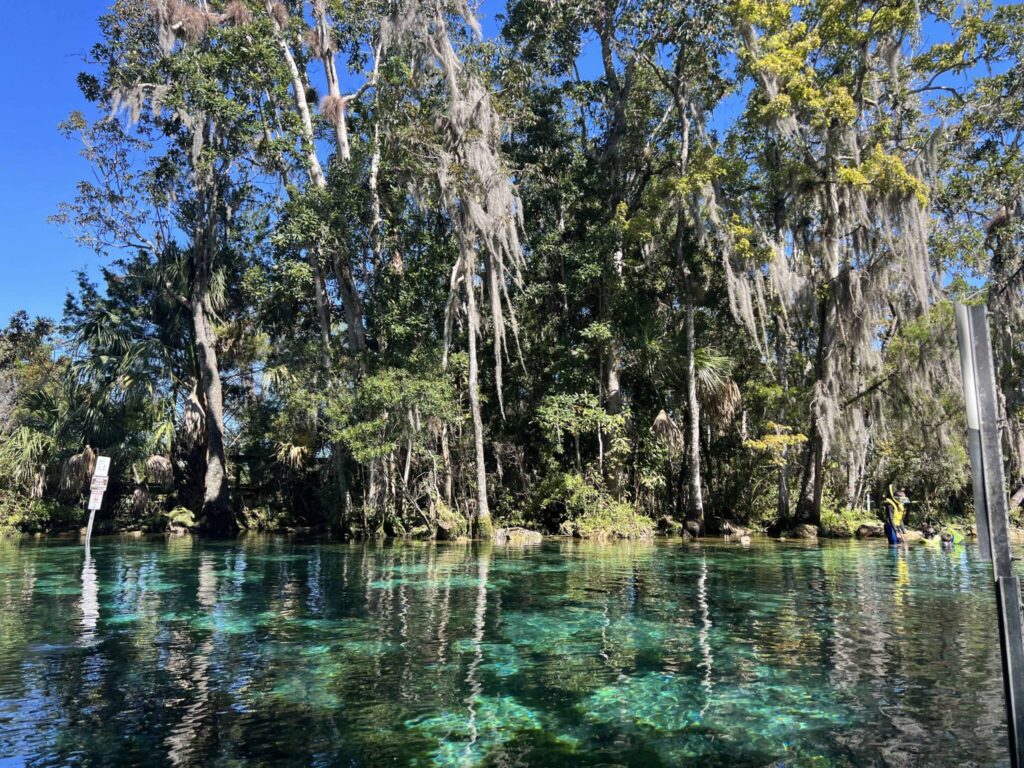 It takes us about an hour to drive to Crystal River. We've been renting our kayaks for years from Crystal River Kayak Company. Besides having a friendly staff, they are extraordinarily helpful when it comes to providing assistance getting in and out of the kayaks. They also provide you with a waterproof map so you can check out all the springs along the river. You launch your kayaks right from their site.
It takes about 10 minutes to paddle to the entrance to Three Sisters Springs which is the jewel in the crown of Crystal River. Kayaking into the springs means maneuvering through the narrow spaces between the pilings which guard the entrance, staying to the right in order to give space to the myriad snorkelers and swimmers who also enjoy the springs. All in all, it's well worth the effort.
If access to Three Sisters Springs is closed or if you don't see any manatees in the springs, keep your chin up little buckeroo! There are plenty of opportunities to see manatees as you kayaking throughout Crystal River and into Kings Bay. Lots of other wildlife call the Crystal River Wildlife Refuge home including bald eagles, ospreys, otters, turtles, and alligators.
If you're planning on a kayak or paddle board trip to Crystal River National Wildlife Refuge, make sure to watch the Manatee Manners for Paddlers video first. Produced by the U. S. Fish and Wildlife Service, the video is mandatory viewing for all paddlers in order to keep the manatees safe.
Conclusion
Kayaking North Florida is a wonderful way to get some exercise while exploring the world around you. These are just 3 fabulous kayaking opportunities in the area. There are tons more! If you've never tried kayaking, I urge you to give it a go. If someone who can't even throw a Frisbee can navigate these waterways, so can you.
Kayaking North Florida – Related Articles
Kayaking in Anastasia State Park