Are you thinking of living in Gainesville FL? If you are moving to Gainesville or are considering a move to Gainesville, chances are you have a lot of questions about what life is like here. Here are just a couple of answers to frequently asked questions about living in Gainesville FL.
How many people live in Gainesville Florida?
According to the United States Census Bureau, as of July 2019, 133,857 people call the city of Gainesville Florida home. This is a 7.7% increase from April 2010 when the population was 124,266.
Spread out over 969 square miles, the total population of Alachua County (which includes Gainesville, Alachua, Archer, Cross Creek, Hawthorne, High Springs, LaCrosse, Melrose, Micanopy, Newberry, and Waldo) was reported as 269,956 in July 2019. The population of Alachua County grew 9.1% from April 2010 when the population was 247,337.
With more than 52,367 students at University of Florida and and nearly 15,055 students at Santa Fe College, you could say Gainesville's population swells just a tad when school is in session.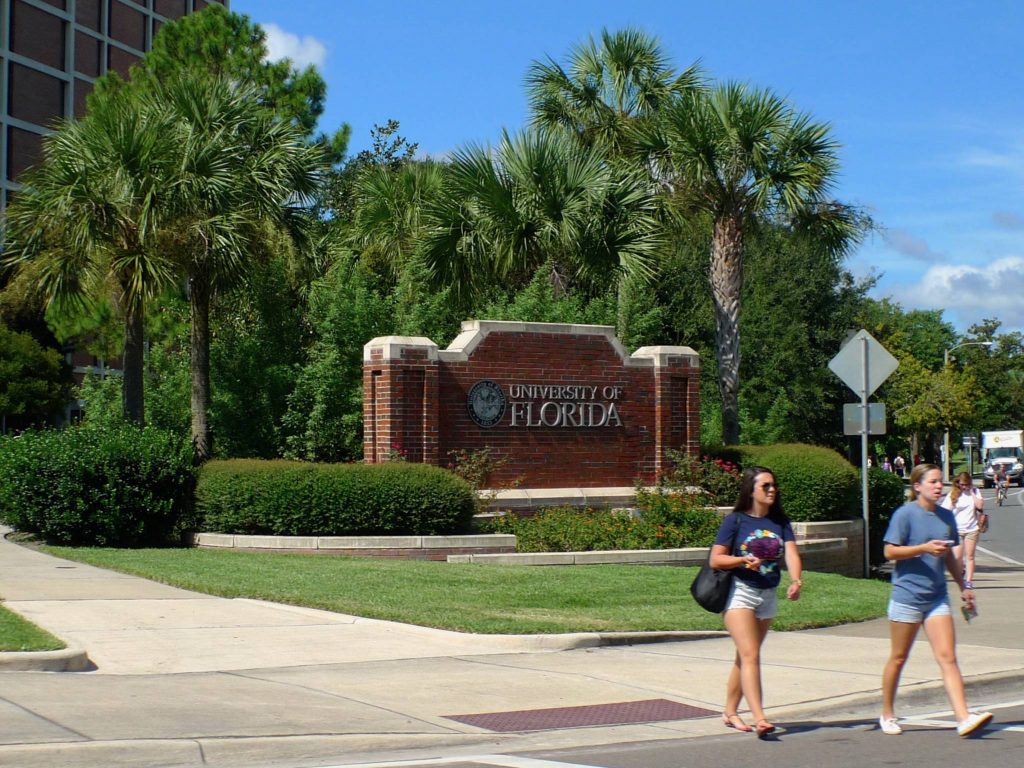 What type of businesses power Gainesville's economy?
The Gainesville Florida economy is largely powered by education and health care. University of Florida and UF Health are the area's largest employers.
Here are Gainesville's top 15 employers in 2016 per the Gainesville Area Chamber of Commerce:
University of Florida
UF Health Shands System
VA Medical Center
Alachua County School Board
City of Gainesville
North Florida Regional Medical Center
Gator Dining Services
Nationwide Insurance
Alachua County
Publix Supermarkets
Wal-Mart Stores
Santa Fe Community College
Wal-Mart Distribution Center
Dollar General Distribution Center
RTI Surgical
Gainesville is a hub of innovation, boasting the most business incubators per capita in the United States.
What is the quality of life like in Gainesville FL?
There are a lot of reasons why people move to Gainesville, not the least of which is a great quality of life.
We have lived in Gainesville since 2008. We love it because even though Gainesville is considered a city, it feels more like a small town. Everybody is so friendly. The weather is awesome. We love how close we are to things we love to do. A day trip kayaking with the dolphins in Cedar Key is only an hour away. Spending an afternoon kayaking with manatees in Crystal River is only an hour away. We're only 2 hours to St. Augustine, Tampa, Orlando, and Daytona Beach — close enough for day trips or stress-free weekends that don't include a long drive.

Living in Gainesville FL – Helpful information
If you are looking for more information about what it's like living in Gainesville Florida, here are some additional resources.
Guide to Greater Gainesville – lots of information about living in Gainesville and surrounding communities in Alachua County.
Why Gainesville Florida is One of the Best Places to Live – Gainesville's livability and charm means the city regularly makes it onto these kinds of lists.
Tips for buying a home in Gainesville – if you're looking to buy a home in Gainesville, these tips will help smooth out the process.
Crime map – look up any address in the U.S. to learn about crimes in the area.
Alachua County Public Schools – Learn about the Alachua County School District schools, school zoning, and more.
Gainesville private schools – Learn about private schools in Gainesville and the surrounding area.
Visit Gainesville – Go-to source for information about places to go and things to do in Gainesville and the surrounding towns of Alachua County.
University of Florida Sports Calendar – All things Florida Gator!
Gainesville has so much to offer for a variety of lifestyles. Whether you are looking for an urban lifestyle within walking distance of downtown, or you are wanting to stretch out on some acreage with room enough for horses, you can find what you are looking for in Gainesville Florida.
I hope this information gives you a good idea of what life is like living in Gainesville Florida.
Welcome to the Gator Nation!