Haile Plantation History
The origins of Haile Plantation in Gainesville FL began in 1854. Thomas Evans Haile and his wife Serena Esther Haile brought their 5 children and 56 enslaved laborers  to Alachua County from Camden, South Carolina to establish a 1500 acre Sea Island cotton plantation which they named Kanapaha Plantation.
The cotton plantation was very successful, and Thomas Haile became a wealthy Florida planter as a result. His mother Amelia was the richest planter in Alachua County.
"A strong supporter of secession and the Confederacy, Thomas Haile participated in the Civil War as a cavalry officer and his oldest son, John, served as a private. Following the war, Haile returned to Kanapaha to grow cotton. A disastrous harvest soon thereafter forced him to declare bankruptcy in 1868. His brother, Edward, purchased Kanapaha and some of the surrounding lands as well. In 1873 Ester Serena Haile inherited Kanapaha and the family lands."

A Guide to the Savage and Haile Plantation Ledgers
Built by enslaved craftsmen over a period of 18 months, the original plantation house still stands today. Open for tours on weekends, the Historic Haile Homestead at Kanapaha Plantation and its surrounding 40 acres is a historic site and museum that tells the story of the Haile Family and the enslaved laborers who worked on the plantation.
Haile Plantation – Current Day
Begun in the early 1970's, the New Urbanism community of Haile Plantation in Gainesville FL was conceived by The Fleeman Family, Robert B. Kramer, and Matthew Kaskel. Nearly 2/3 of the Sea Island cotton plantation that was established by Thomas Haile in 1854 was used to build the Haile Plantation neighborhood.
"The name, Haile Plantation, comes from the fact that we bought 1,100 of the 1,700 acres from the Haile family. The Haile family built this plantation house in 1850 on the property. They had acquired the property from an owner who owned much of Alachua County, and had acquired that from the original land grant from the king of Spain."

Robert Kramer
The  founders of the Haile Plantation community shied away from designing the typical suburban neighborhood, opting instead for a special place which features miles of walking and biking trails, swaths of greenspace throughout its 1700 acres with a village center at its heart. The community regularly shows up as one of Gainesville's top 10 best selling neighborhoods.
Located less than 10 miles southwest of UF Health Shands Hospital and the University of Florida, this 2600 household development in SW Gainesville is more than just a collection of houses. Haile Plantation is a community.
Haile Plantation neighborhoods
Within Haile Plantation are dozens of mini neighborhoods offering homes in a variety of styles and price points. There are three HOAs in the community: Haile Plantation Association, Haile Plantation West Association, and Haile Village Center Owners Association. The Haile Plantation neighborhood you live in determines which HOA you belong to.
Haile Village
Haile Village is Haile Plantation's downtown area. Condos, townhomes, and single family residences are woven amongst the retail shops, restaurants, and businesses in this downtown area. The center of activity, Haile Village is the hub of this SW Gainesville community. The village is the site of the community's weekly farmers market. Two popular festivals, Oktoberfest and Haile Light The Village, draw hundreds of people from throughout Gainesville and surrounding areas. The cobbled streets of the village add to its charm.
Bus shuttle to UF/Shands
Haile Village is also the starting point of a RTS shuttle bus that runs regularly during the weekdays from Haile Plantation to the UF campus. Check out the information on Bus Route 150 on the RTS website.
Haile Plantation Farmer's Market
Every Saturday morning throughout the year, rain or shine, you can enjoy the Haile Plantation Farmers Market in Haile Village Center featuring dozens of vendors. Farmers market day is a bustling community affair drawing people from all over Gainesville. Shoppers thread through the various open-air booths offering farm-fresh produce, organic meats, landscaping plants, baked goods, and more. It's a great place to catch up with friends, stock up on organic goodies, and stop into one of Haile Village's restaurants for a relaxing lunch afterwards.
Haile Market Square
Publix Supermarket anchors Haile Plantation's other retail center, Haile Market Square. UF Health has established a major presence in Haile Market Square. UF Orthopaedics and Sports Medicine, UF Health Rehab Center, UF Health Family Medicine, and UF Health Women's Center all have offices here.
Haile Plantation restaurants
Haile Plantation restaurants are located in both Haile Village and Haile Market Square. Whether you are in the mood for New York style Chinese food, pizza, designer cupcakes, or some of the best sushi in town, you will find what you are looking for in Haile Plantation restaurants.
Haile Village
The Queen's Arms – serving traditional English pub food. Wonderful Shepherd's Pie and fish and chips. Trivia Nights every Wednesday are quite popular.
Haile Village Bistro – good food, great desserts. Lovely outdoor seating, dog friendly. Fun place to go for Saturday brunch after the farmer's market. Since the bistro is right next door to the Queen's Arms, you can get their pub food here as well.
Volcanic Sushi and Sake – fantastic sushi rivaling Dragonfly's (and I would go as far as to suggest their sushi is even better than Dragonfly's). Can't miss dishes include their tuna tataki and Haile roll. More seating outside than inside. Their outdoor patio is pet-friendly.
Patticakes in the Village – perfect place to stop if you're in the mood for a jolt of caffeine and a cupcake.
Suki's Vegan – This 100% plant based restaurant is a huge hit with locals. Offering Korean, Asian, and American food, Suki's Vegan also offers gluten free options.
Haile Market Square
Biking in Haile Plantation
Joggers and bikers can often be found navigating the Haile Village Loop, a 3 mile paved loop that encircles the community. It's not unusual to find 5K fundraisers hosted here on the Haile Village loop – a great way to get involved in community causes while enjoying Haile Plantation's scenery at the same time. Cyclists also enjoy access to the Archer Braid Trail, a 10+ mile bike trail that connects the cities of Archer and Gainesville and winds through Haile Plantation. Future plans include expanding the trail to reach the University of Florida.
Haile Equestrian Center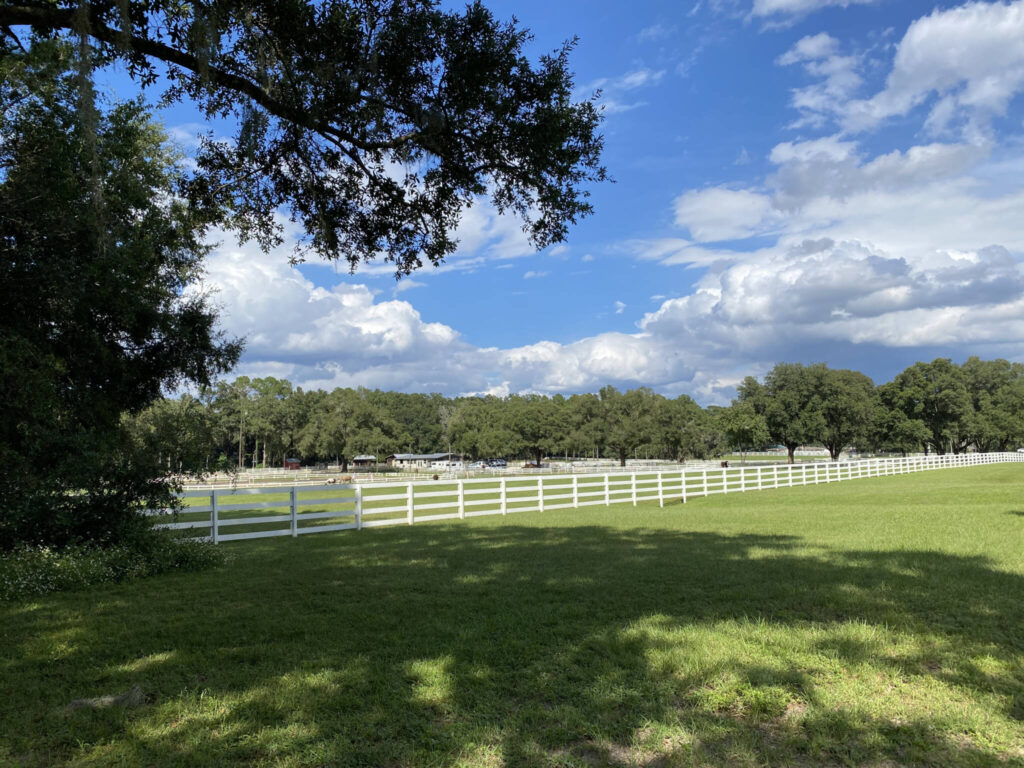 If you are interested in horseback riding, the Haile Equestrian Center is a great place to go for lessons. The Equestrian Center also offers horse leasing, casual horseback rides, and pony parties. Make sure to check out the Haile Equestrian Center website for information on memberships, riding lessons, horse camps, horse boarding, and more.
Hawkstone Country Club
Haile Plantation is also home to Hawkstone Country Club which features an 18-hole Gary Player Signature golf course. Becoming a member of the club also gives you access to the clay tennis courts, pickleball courts, two swimming pools, a restaurant, a fitness center, and a variety of classes and clubs for youth and adults alike. You are not required to join Hawkstone Country Club to live in Haile Plantation. You also don't need to live in Haile Plantation to join Hawkstone Country Club.
Schools
Haile Plantation is served by two elementary schools (Kimball Wiles Elementary and Lawton Chiles Elementary) as well as by Kanapaha Middle School and Buchholz High School. Nearby private schools include Gainesville Country Day School (6 weeks through 5th grade), Jordan Glen School (Pre-K through 8th grade), Oak Hall School (Pre-K through 12th grade), Queen of Peace Catholic Academy (Pre-K through 8th grade), The Rock School (Pre-K through 12th grade), and Trilogy School (1st through 12th grade).
Haile Plantation Homes for Sale
Haile Plantation homes for sale come in a wide variety of styles and price points. Depending on what's currently available you can find anything from a 1 bedroom condo to an executive pool home and everything in between. Here is a quick look at the latest Haile Plantation homes for sale.