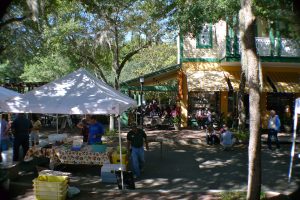 The Haile Plantation Farmers Market is a favorite Gainesville farmers market with locals. The market happens in Haile Village rain or shine every Saturday throughout the year from 8:30 until Noon.
White canopies dot the tree-lined boulevard in the village center where area farmers and local vendors display myriad offerings including organic baked goods, freshly picked fruits and vegetables, garden plants, and homemade dog biscuits.
Here are some vendors who can frequently be found at this farmers market:
Savoring the festive atmosphere, market goers enjoy live music while they pack Haile Village Center's sidewalk cafes for breakfast or a cup of coffee with friends. Eating fresh has never been such fun!
5211 S.W. 91st Terrace
Haile Village Center, Haile Plantation, Gainesville Florida 32608