Here are some tips for buying a home in Gainesville Florida. Whether you are just moving to Gainesville or if you have been here for awhile, these home buying tips can help smooth out your homebuying process.  
Get prequalified for a loan
Your first step in your home buying process is to talk to a lender and get prequalified for a loan. A short phone call to the lender will kick off the process. A lender will be able to give you a good idea of how much house you can afford and how much money they will be able to lend you for your home purchase based on the information that you give them. They will also be able to tell you what kinds of loan programs you'd be eligible for depending upon your credit score.  Loan downpayments start as low as 0% down depending upon the loan program.
A prequalification is not a guarantee you will get a loan from the lender but it does start the process. The lender will need to meet with you and gather documentation from you regarding your income, assets, debts, credit rating, etc. in order to determine whether you'd be eligible for a mortgage.
If you need to work on your credit before being able to get a mortgage, the lender will be able to give you tips on what you will need to do to be able to move forward.
How to find a lender
Your Realtor will be able to recommend some good local lenders. Also make sure to talk to your friends, family, and colleagues to see who they worked with when buying their homes and who they would recommend. People love to share their stories – both good and bad. It's important to listen to both. If someone shares a lending horror story with you, there's no reason for you to jump into a living nightmare of your own. You'll be working closely with your lender throughout the months long buying process all the way through closing. Getting to the end is not always a picnic and there are bound to be bumps along the way. Working with a lending professional who knows what they are doing, is your ally, and who works hard to make sure you end up with the house is invaluable. Having a good lender can often make the difference between you getting the home or not.
Choose a lender who is accessible
Listen closely to colleagues, friends, and relatives about their experiences working with lenders. How easy was it for them to reach their lender? Did the lender provide them with a number where they could be reached after business hours?  Real estate doesn't just happen 9-5 Monday through Friday. A large portion of deals happen after business hours and on weekends.
Remember: The lender works for YOU. You will be working with them over the next several months until you buy a house. Having a good working relationship with a lender is a major determination of how easy or difficult a home buying transaction will be.
Get prequalified before shopping for a house
I know. I already said to get prequalified before shopping for a house but it bears repeating and here's why.
Getting prequalified kicks off the process of knowing how much house you can afford and will guide you in your house hunt.
Realtors generally will not take you around to look at homes before you are prequalified.  This is because:
Realtors can't help you buy a house if they don't know which houses to show you.
Realtors are responsible for assuring home sellers that the people they are taking in to see their homes can actually buy them.
Shopping for a house is different than shopping for a car. You can visit car lots and see what cars look like – and even test drive them – even when you have no intention of buying them.
Car shopping is an impersonal process.
Home shopping is not.
People live in these homes and disrupt their lives to arrange for their homes to be shown.
If you are not ready to move ahead with the prequalification process, that's OK. Visiting open houses is a great way for you to look at homes before deciding to commit to looking in earnest with a Realtor for a home to call your own.
How much you are prequalified for may not be the same as how much you feel comfortable paying
If a lender prequalifies you for X amount but you are not comfortable going that high (and many people aren't because they enjoy having some financial breathing room), adjust your home search accordingly.
Looking at houses you'd feel comfortable paying for is a great way to avoid having your heart broken should the seller not agree to come down to a price point where you are comfortable.
Lowballing is a bad idea
Lowballing is a bad idea, especially if you are in a strong seller's market. A seller's market is when there are many more buyers than there are houses to buy. When there are a lot of home buyers and very few houses to buy, home prices are higher and they often sell over asking price. Also, in a hot seller's market multiple offers are not uncommon.
So. If you find a house that you really love and want to buy, coming in with a strong offer will increase your chances of getting the house over the other buyers.
Or not.
Totally up to you.
I'm just saying.
Sellers are not required to counter-offer
This is really important to keep in mind if you really like a house. In a market where multiple offers are not uncommon, you may have just one chance to state your case. If you present an offer that's lower than what you'd actually consider paying and you are waiting for the seller to counter, there's a chance that they may not.
If you're OK with taking that chance that's one thing. But if the idea of losing the house to another buyer freaks you out, make sure to present your strongest offer and contract terms the first time around.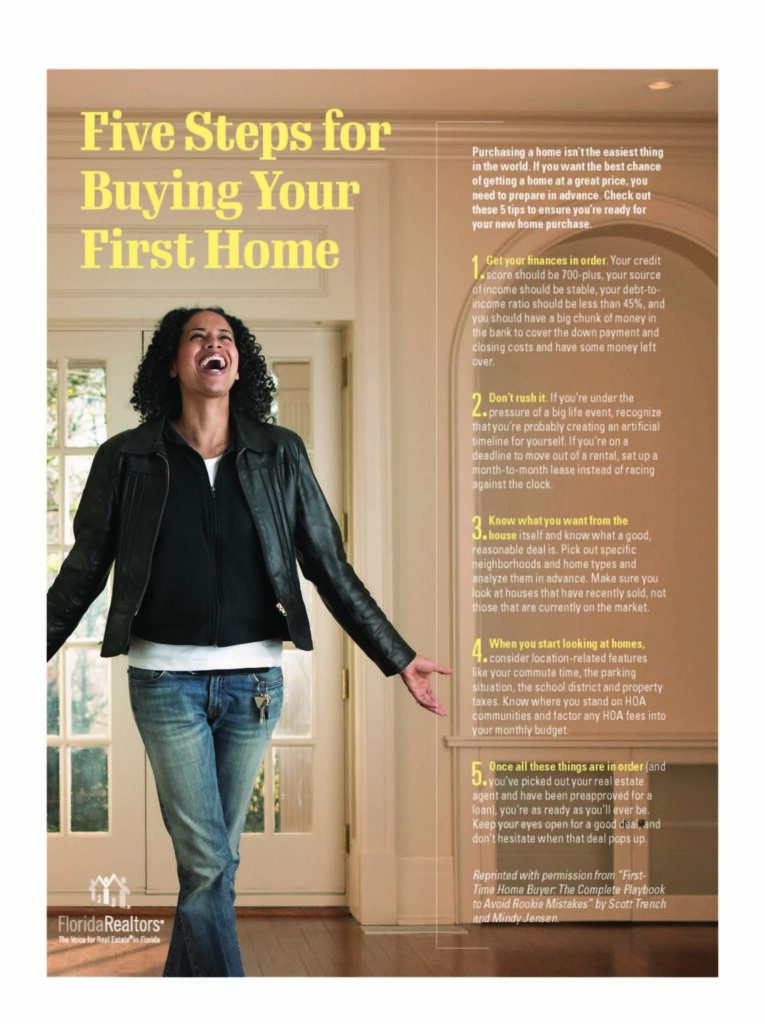 Keep future buyers in mind
When buying a house, it's difficult to imagine that one day you will be selling the house. However, it's important to remember that you are not just buying the house for you – you are buying it for the next buyer who will be buying it from you.
Things that really bug you about a house will often bug another buyer as well.
Can these things be addressed in a cost-effective way (e.g., paint, wallpaper)?
Or are they things that can't be changed (e.g. house on busy road) or are cost-prohibitive to change (e.g. floor plan)?
Factoring these issues into your decision-making process can help you out in the long run when you eventually go to sell.
Keep closing costs in mind
When you find a house that you like, your Realtor can provide you with a very ballpark estimate of what your closing costs will be. This includes a ballpark estimate of how much money you will be expected to bring to closing, as well as an estimate of what your monthly mortgage payment will be.  You will get a much more accurate estimate of all of these figures from your lender because a lender's Loan Estimate breaks down the charges associated with the mortgage.
The payment of closing costs is a negotiable term of the offer contract.
Ask for recommendations when choosing a Realtor
There's much more involved in buying a home than what you see on HGTV. Thinking of everything at once can lead to hyperventilation or an urge to crawl into the fetal position and throw a blanket over your head.
Having a Realtor you're comfortable with to walk you through every step of the process and to help keep you out of freak-out mode during the stressful moments (which you will have) is paramount.
Like birth stories, people generally love to share their home-buying experiences. Asking people you trust for recommendations on who to use is a great way to help ensure that you have an enjoyable home-buying experience.
Happy Hunting!
Related articles