Kayaking Rainbow River in Dunnellon Florida is a short day trip from Gainesville FL. A little over an hour from Gainesville, the Rainbow River is an easy kayak trip. The river is formed by Rainbow Springs, a first magnitude artesian spring which produces more than 490 million gallons of water a day.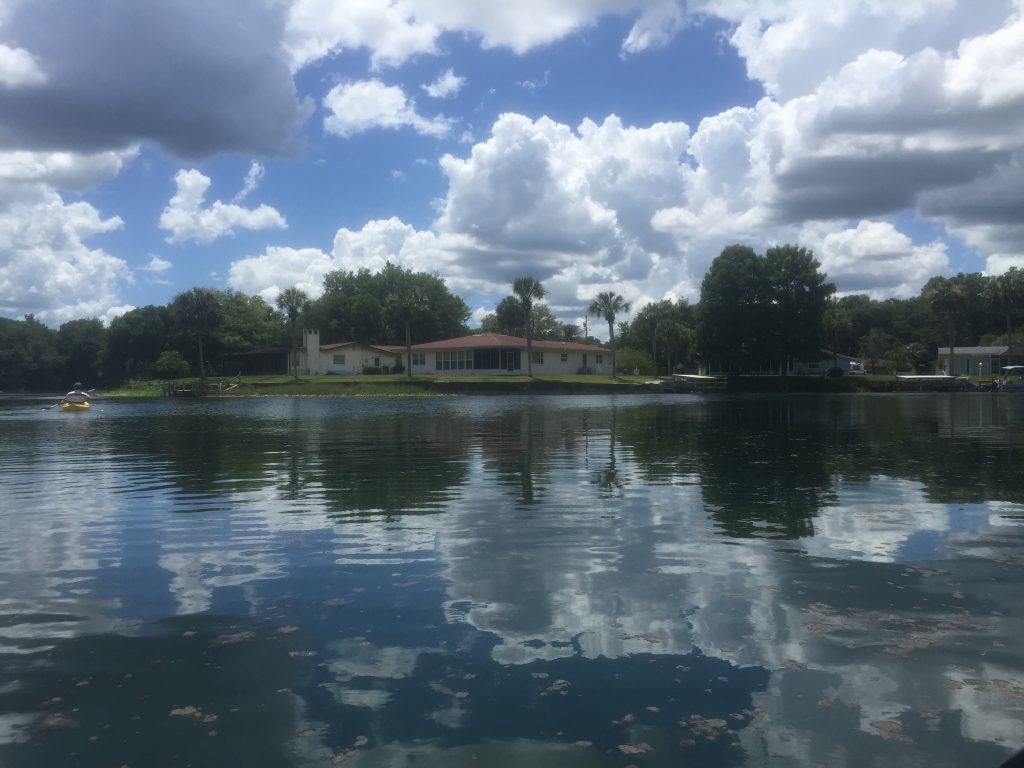 Where to rent kayaks for your trip
We rented kayaks from Rainbow River Canoe and Kayak, a very clean, well-run facility with a helpful and friendly staff located along the Withlacoochee River in Dunnellon Florida. Rainbow River Canoe and Kayak rents canoes, kayaks, and paddleboards.
You can show up and rent kayaks right at the Rainbow River Canoe and Kayak Company. It's best to call ahead before you go to ensure they'll have a kayak for you when you get there. According to their website, if you give them 24 hours notice you get a 10% discount.
After you check in and pay for your kayak rental at Rainbow River Canoe and Kayak Company, your kayaks are loaded onto a trailer, and you take a short shuttle ride to K. P. Hole Park.
There is a $5 entrance fee per person to enter the park. The kayaks are launched from K. P. Hole Park.
River trips
Two different river trips are offered by Rainbow River Canoe and Kayak.
The 4.5 mile Rainbow River trip takes about 2 hours. The water is crystal clear because up to 500 million gallons of water flow from more than 100 spring vents each day.
If you like, you can paddle up to Rainbow Springs State Park first to see the headsprings, which will add about 3 miles to your trip. The headsprings is one of the largest springs in the world.
The Withlacoochee River trip is 9 miles and takes you through the Withlacoochee State Forest. This 3-4 hour river trip feels more like a jungle cruise, taking you through wild Florida.
We took the shorter trip offered by Rainbow River Canoe and Kayak which took us about 2.5 hours because we took our time enjoying the scenery.
Rainbow River wildlife
Otters, fish, turtles, and alligators make the Rainbow River their home. Other wildlife around Rainbow River include raccoons, deer, and birds of all types including hawks and owls.
The day we kayaked, we saw a few fish and some ducks. I was really disappointed that we didn't see any river otters, which from what I understand are plentiful.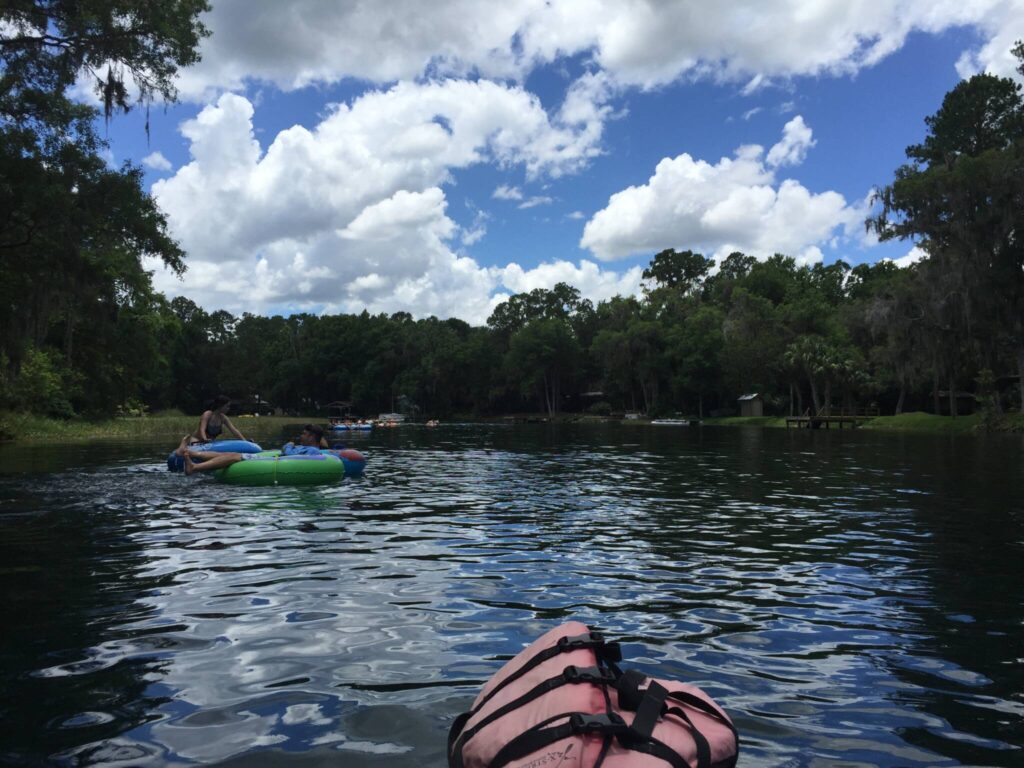 Rainbow River tubing season
Tubing season runs from April 1 to September 30.
The day we went kayaking we saw hundreds of tubers having a wonderful time lazing down the river in groups — a perfect relaxing activity for a hot summer day.
Rainbow River tube rentals
Rainbow River tube rentals are available through KP Hole Park tube rentals.
Tubing is very popular on the Rainbow river and tube rentals sell out quickly. Calling ahead early is the best way to ensure you will be able to arrange for tube rentals at KP Hole Park.
River rules
Among other river rules, it is unlawful to possess alcoholic beverages on the river, and food and drinks cannot be in disposable containers. Getting acquainted with the rules of the river before embarking on your trip will make for a more enjoyable journey.
Gainesville day trip
Kayaking Rainbow River is a great day trip from Gainesville, Florida. After your kayak trip, you should consider visiting Rainbow Springs State Park where you can swim or snorkel in the clear blue headwaters of the springs.
Swampy's Bar and Grille is the perfect place to stop for a burger or a grouper sandwich before you head back home. Located along the Rainbow River, Swampy's Bar and Grille provides you with gorgeous views as well as some really good eats!
Other Florida kayak trips
Here are some other fun Florida kayak trips within an easy drive of Gainesville FL: