Gainesville Day Trip – Kayaking the Santa Fe River
Looking for a Gainesville day trip? Always wanted to kayak the Santa Fe River? You can access put-in spots just 40 minutes from Gainesville.
We did just that a few weekends ago. We started out at Rum Island Park in Columbia County which is about 27 miles from our home.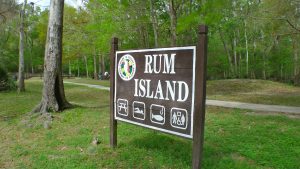 This tiny county park boasts awesome views and seems like quite a popular place for canoe and kayak trips to launch. (NOTE: If you are fond of plumbing and not a big fan of port-a-potties that look like something out of a Stephen King novel, it would be wise to make a stop beforehand).
Anderson's Outdoor Adventures, a relatively new canoe and kayak outfitter out of Bell Florida, met us at Rum Island Park with our kayak rentals.
A few words of advice from the kayak dudes ("turn right, keep going until you see the bridge") and we were on our way for our 8 mile adventure down the Santa Fe River.
We saw turtles. We saw mullet jumping out of the river. We saw spider lilies. We saw wild turkeys. We saw ducks. We saw cormorants. We saw spring breakers tubing down the river. We saw fishermen. We saw scuba divers. We saw more turtles. We saw more mullet jumping out of the river. Then we saw more turtles.
Kayaking Santa Fe River is a really enjoyable way to spend an afternoon. It's an easy day trip from Gainesville. We will definitely be back!
If you don't have your own kayak and you want to rent, there are quite a few Santa Fe River kayak rental companies. Here are just a few.
Santa Fe River Kayak Rental Companies
Kayaking Santa Fe River – The Movie! 🙂