Cedar Key FL is an old fishing village along the Gulf of Mexico that is just an hour's drive from Haile Plantation in Gainesville FL.
The Cedar Keys are a collection of 13 coastal islands off the mainland and are designated as a National Wildlife Refuge.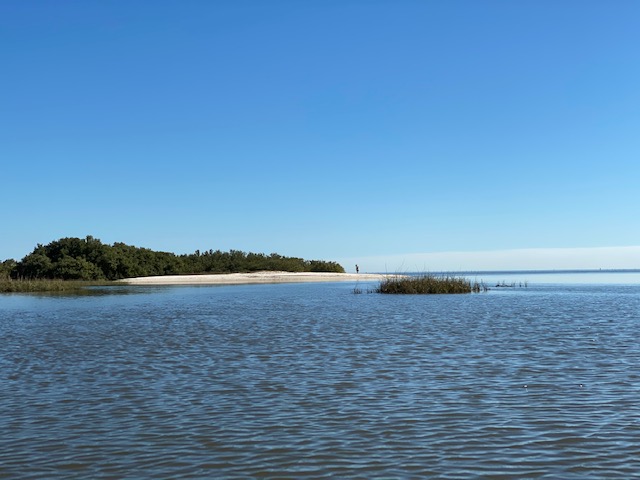 Atsena Otie Key, the closest key to the mainland, is about a 20 minute paddle from Cedar Key beach. Cedar Key Adventures rents kayaks right off Cedar Key beach. Whenever we decide to kayak out to Atsena Otie, renting a kayak from them is our first stop!
Atsena Otie Key has a short hiking trail leading to an historic cemetery. There is an information kiosk that describes the history of Atsena Otie.
Paddling around Atsena Otie Key can be easy or difficult depending on the choppiness of the Gulf. On the day we went it was a bit of a challenge but nothing we couldn't handle.
We saw two seals and countless birds on our trip.
It took us about 2 hours round-trip. We beached our kayaks at one point to have a snack and enjoy the view before setting off again.
If You Go
Be very aware of the Cedar Key FL tide schedule before you embark on your journey. When the tide goes out, it goes OUT, and you don't want to get stranded until the tide comes back in again.
Bring sunscreen, water, insect repellent (which you may need depending upon the season), and some snacks. Bringing a dry bag for your phone and for anything else you don't want to get wet is a good idea as well. If you don't have a dry bag, you can use some sort of ziploc bag.
Beautiful day, gorgeous scenery. Would definitely kayak Cedar Key FL again.
Kayaking near Gainesville FL – Other trips:
Kayaking Crystal River Florida