Haile Plantation Gainesville FL: Beginnings
The history of Haile Plantation Gainesville FL began in 1854 when Thomas Evans Haile and his wife Serena Esther Haile brought their 5 children and 66 slaves  to Alachua County from Camden, South Carolina to establish a Sea Island cotton plantation which they named Kanapaha.
According to A Guide to the Savage and Haile Plantation Ledgers, the cotton plantation was very successful, and Thomas Haile became a wealthy Florida planter as a result.  His mother Amelia was the richest planter in Alachua County.
"A strong supporter of secession and the Confederacy, Thomas Haile participated in the Civil War as a cavalry officer and his oldest son, John, served as a private. Following the war, Haile returned to Kanapaha to grow cotton. A disastrous harvest soon thereafter forced him to declare bankruptcy in 1868. His brother, Edward, purchased Kanapaha and some of the surrounding lands as well. In 1873 Ester Serena Haile inherited Kanapaha and the family lands."
Built by slaves over a period of 18 months, the Historic Haile Homestead still stands today and is open for tours on weekends.
Haile Plantation Gainesville FL: Current Day
Begun in the early 1970's, the New Urbanism community of Haile Plantation Gainesville FL was conceived by The Fleeman Family, Robert B. Kramer, and Matthew Kaskel.  According to Robert Kramer:
"The name, Haile Plantation, comes from the fact that we bought 1,100 of the 1,700 acres from the Haile family. The Haile family built this plantation house in 1850 on the property. They had acquired the property from an owner who owned much of Alachua County, and had acquired that from the original land grant from the king of Spain."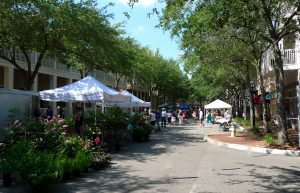 The  founders of Haile Plantation shied away from designing the typical suburban neighborhood, opting instead for a special place which features miles of walking and biking trails, swaths of greenspace throughout its 1700 acres, and a village center of retail shops and restaurants at its heart.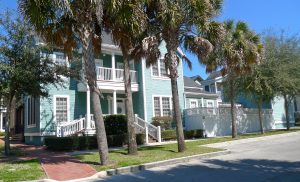 Located just five miles southwest of the University of Florida, Haile Plantation is a 2600 household development comprised of dozens of neighborhoods at a variety of price points.
Haile Plantation is served by two elementary schools (Kimball Wiles Elementary and Lawton Chiles Elementary) as well as by Kanapaha Middle School and Buchholz High School.
Joggers and bikers can often be found navigating  the Haile Village Loop, a 3 mile paved loop that encircles the community. It's not unusual to find 5K fundraisers hosted here on the Haile Village loop – a great way to get involved in community causes while enjoying Haile Plantation's scenery at the same time.
Every Saturday morning throughout the year, rain or shine, Haile Village Center hosts a farmer's market featuring dozens of vendors.
Haile Plantation is also home to the Haile Plantation Golf and Country Club, which features an 18-hole Gary Player Signature golf course.  Membership to the club also means access to clay tennis courts, two swimming pools, a restaurant, a fitness center, and a variety of classes and clubs for youth and adults alike.
Haile Plantation has much to offer its residents and the Gainesville community at large. Definitely check it out if you are ever in the area.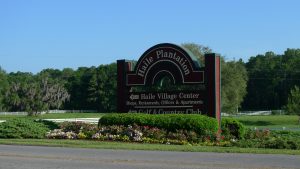 Haile Plantation Homes for Sale