The Florida Bat Festival has been hosted by Lubee Bat Conservancy for the past 15 years. Established in 1989, Lubee Bat Conservancy is an international non-profit organization based in Gainesville Florida that's dedicated to saving bats and their habitats. The Lubee Bat Conservancy hosts the Florida Bat Festival each fall as a fun way to bring the community together to learn about bats, dispel myths, and encourage the public to help support the organization's conservation and education efforts.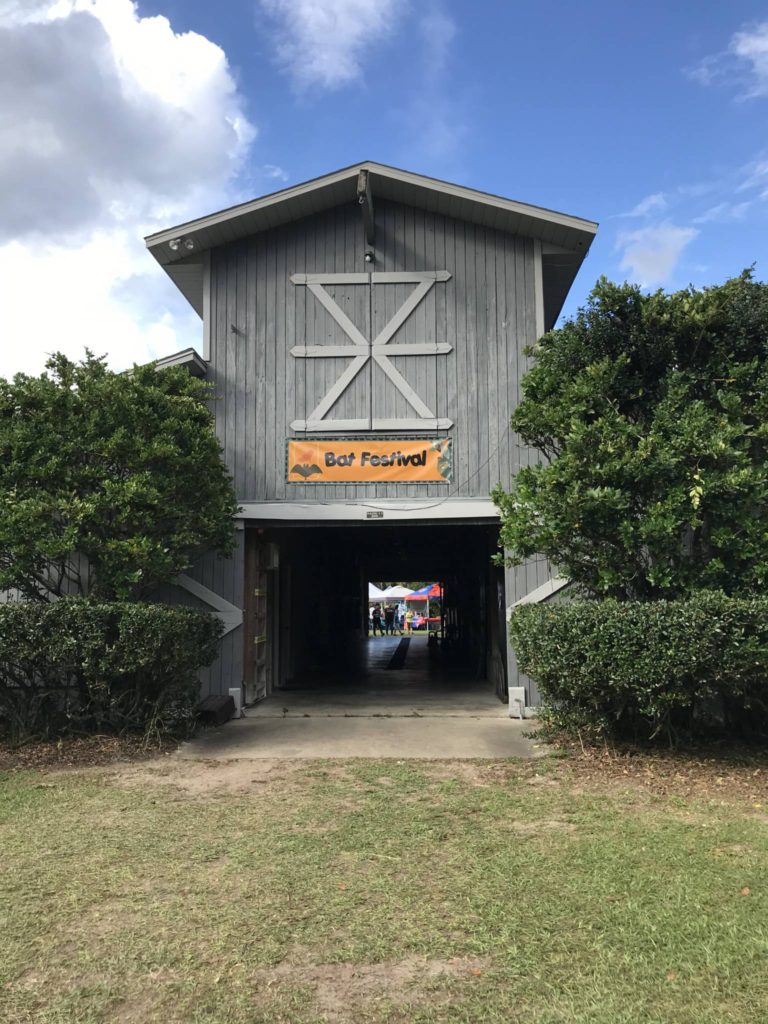 The 15th Anniversary Florida Bat Festival was held on October 26. I'd heard good things about the festival and always wanted to go but kept missing it. This year was the first time we went – and it was awesome! The rainy weather held off – a relief to the tons of festival goers who made the trek out to the festival. About 4 miles south of Brooker, Lubee Bat Conservancy is housed on a 110 acre ranch. The conservancy is home to more than 200 bats of various species. Many of the bats housed at Lubee are megabats – giant bats that eat fruits and vegetables. The center is also home to micro bats (the kind of bats that live here in North America).
During the day, festival goers could tour the bat house to see the bats. There were also educational talks given throughout the day in the bat classroom. At one of these talks we saw a couple of native microbats up-close and personal (I can't even begin to tell you how cute they are!) Each of these microbats can eat up to 1,000 mosquitoes in an hour – giving me a whole new appreciation for the UF bat houses at Lake Alice.
There were lots of non-bat activities at the festival as well, including a costume contest, a children's area with crafts, face painting, bounce houses, and more. The dance troupe from DansCompany of Gainesville came out to perform their famous Thriller routine. There was even a beer garden!
If you weren't able to make it to the Florida Bat Festival, you can always schedule a tour of Lubee Bat Conservancy. Same-day tours are not available.
You can follow the bats at Lubee Bat Conservancy on their Mixed Species Flying Fox Cam. Hosted by explore.org, the live bat-cam is a really cool way to watch some of the conservancy's bats in action.
Whether you go to the festival or book a tour, I highly recommend you take a trip to the Lubee Bat Conservancy. It truly is one of Gainesville's gems.