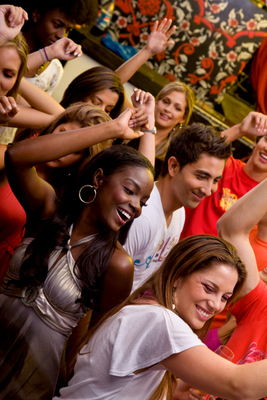 Have you ever Zumba'ed? No, Zumba is not a robotic vacuum that cleans your home while you are away.
Zumba is a Latin-infused dance exercise program that began in 2001 and has taken off like wildfire all over the world.
Why is it so popular? My guess is because it doesn't feel like exercise. It feels like FUN!
My friend Madel Sotomayor, a Zumba instructor at Gainesville Health and Fitness, encouraged me to give Zumba a try…..that is, she encouraged me to try for about two years, and then she gave up and began picking me up at my house and dragging my unwilling and way too fluffy butt off to her class.
And I LOVED it!
From the upbeat Latin music to the easy camaraderie shared by class participants learning fun and not too difficult dance steps together, Zumba hooked me from the very beginning.
I am now an unapologetic Zumba-holic and go to Zumba classes three times a week.
Let me tell you…..I have always HATED exercise. Zumba changed all of that. It's FUN, it's a HUGE calorie-burner, and I never in my life imagined an hour at the gym could pass by so quickly.
If you hate to exercise, but you love to dance, give Zumba a try. Gainesville Health and Fitness offers Zumba classes at all three of its locations. Find a time that works for you and get your fluffy butt off the couch.
Not a member of Gainesville Health and Fitness? No worries! They give you a free pass to come in and try one of their Zumba classes. Free! What's not to like?