OK, so this is a wayyy personal post!
Our son Ryan DeGroff, who is 15 and a sophomore at Buchholz High School in Gainesville Florida, has been invited to march with The Boston Crusaders in the 57th Inaugural Parade in Washington D.C. on January 21, 2013.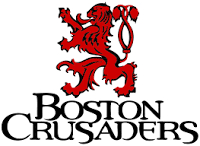 The Boston Crusaders are the third oldest drum and bugle corps in the United States. The last time the Boston Crusaders were invited to march in the Inaugural Parade was when Lyndon Johnson was sworn in as President.
The Boston Crusaders drum and bugle corps consists of 149 members from throughout the country who undergo a rigorous round of auditions each year to earn a spot in the corps.
Drum and Bugle Corps members range from 15-21 years of age.