Living in Gainesville – A Trip to UF's Bat House is a Must!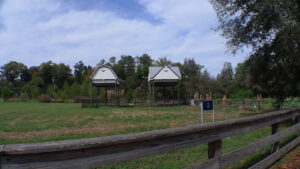 What has 200,000 wings and eats nearly 10-20 million live insects per night? Why, the colony of Brazilian free-tailed bats living in the UF Bat House in Gainesville, of course.
Twenty minutes before sunset on any given night is the best time to make your way to the UF Bat House across from Lake Alice on the University of Florida Campus. Shortly after dusk, more than 100,000 bats emerge, filling the sky before dispersing over Lake Alice and other parts of Gainesville for their evening meal.
The Bat Houses (there are now two, after the first one collapsed in 2009 due to "heavy" popularity — pun intended) are located on Museum Road on the University of Florida campus, on the northwest end of Lake Alice.
The original University of Florida Bat House was constructed in 1991 to redirect their nesting habits away from the UF stadiums, where they had patrons  freaked out.
According to the Wildlife Extension at UF/IFAS, the Bat Houses at the University of Florida are the largest occupied bat houses in North America and perhaps the world.