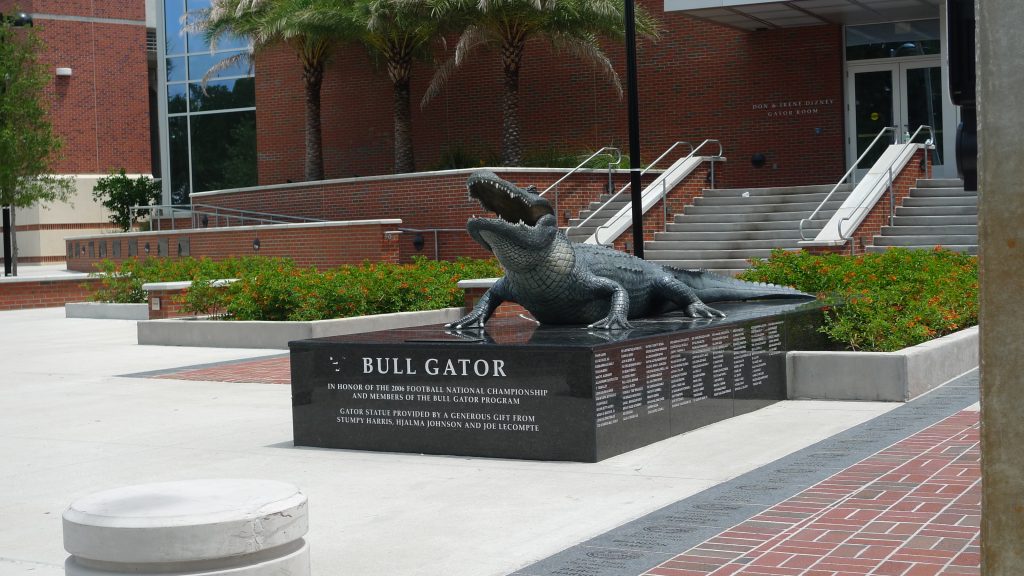 Anybody who knows me at all knows that I am missing the sports strand on my DNA.  However, you can't live in the backyard of The Swamp without learning a few things mighty darn quick:
Royal blue and orange make a fine color combo….especially when worn together.
"Who's Urban Meyer?" is not a good thing to ask around these parts.
If planning a trip out to eat the night before game day (and it does not matter whether the game is home or away), you MUST wear orange….or blue….or both.  Otherwise you're going to look like a Seminolian out-of-towner.  Trust me when I tell you this is not a good thing.
Alabama is right around the corner driving distance-wise….so if that's where the Gators are playing, that's where you'd better be.  And if you are ANY kind of fan at all, you will get there at least 48 hours before the game and stake out your spot on the asphalt.
University parking lot = RV campground on game weekends.
Little Tykes playsets make a fine addition to the bed of parked pickup trucks on game day.
Next to Hurricane Days, the Gator Growl is the best day of the year to be legally off from school.
Celebrating its 86th year, The Gator Growl is the world's largest pep rally (being an official school holiday may explain why the pep rally is so darn big). It is held the night before the homecoming game.
This year's Gator Growl is on Friday, October 16.  A crowd of more than 40,000 is expected.
The Florida Gators kick off their 2009-2010 season on Saturday September 5th at home against Charleston Southern.
GO GATORS!!