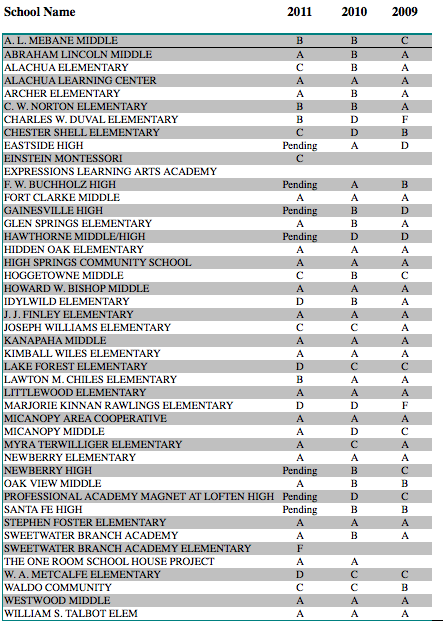 For the sixth year in a row, the Alachua County School District has earned an "A".
The Florida Department of Education released its 2011 results for elementary and middle schools on June 30.  The Gainesville Schools report card, broken down by school**, is shown above.
Gainesville schools (elementary) earning an "A" for 2011
Archer Elementary
Glen Springs Elementary
Hidden Oak Elementary
J. J. Finley Elementary
Kimball Wiles Elementary
Littlewood Elementary
Micanopy Area Cooperative
Myra Terwilliger Elementary
Newberry Elementary
Stephen Foster Elementary
The One Room Schoolhouse Project
William S. Talbot Elementary
Gainesville schools (middle) earning an "A" for 2011
Abraham Lincoln Middle
Fort Clarke Middle
Howard W. Bishop Middle
Kanapaha Middle
Micanopy Middle
Oak View Middle
Sweetwater Branch Academy (middle)
Westwood Middle
Gainesville schools (combination) earning an "A" for 2011
Alachua Learning Center
High Springs Community School
Grades for Gainesville high schools will be released later this year.
**Report card table created from Florida Department of Education spreadsheet available on their website.