How's the Haile Plantation Real Estate Market?
The Haile Plantation real estate market has not been immune to short sales and foreclosures. Twenty percent of Haile Plantation homes sold in the third quarter of 2011 were short sales or foreclosures, a 16% increase from the second quarter of 2011 and a whopping 186% increase over last year.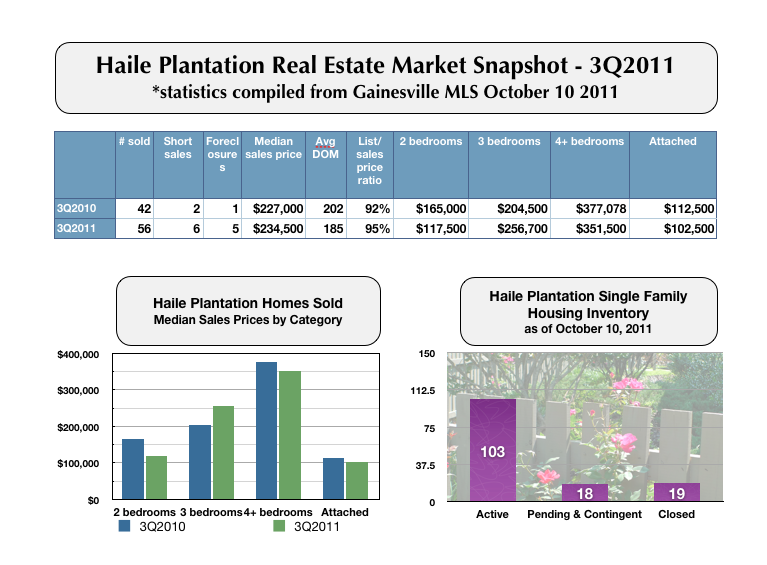 Haile Plantation 3 bedroom homes experienced an uptick in median sales price; however, median sales price declined across the rest of the categories during the third quarter.
The Haile Plantation real estate market is currently a seller's market, with 5 months of homes in inventory. Many Haile Plantation home sellers take their homes off the market at this time of year until after the holidays.
What this means for Haile Plantation home buyers
Haile Plantation home choices may not be as plentiful this time of year, but with mortgage rates at historic lows and with savvy sellers offering competitive pricing, today's Haile Plantation home buyer can walk away with a lot more home than they ever imagined.
What this means for Haile Plantation home sellers
Haile Plantation home sellers who keep their homes on the market through the holiday season have less selling competition. There are still home buyers at this time of the year.  Move-in ready homes which show well and which are priced competitively will always have a market, no matter what time of year they are offered for sale.