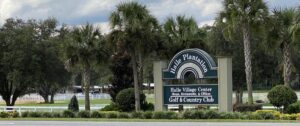 The Haile Plantation community garden is tucked away behind the horse pasture.   Open to residents for a cost of $10 a year, the Haile Plantation community garden offers a serene setting in which to get back to nature.  The prime growing season is October through March.  Residents may grow vegetables or flowers.  For more information, please contact George Weiland at 352-335-7210.
The picturesque horse pasture, located at the intersection of Tower Road and Haile Boulevard, is the main entrance into Haile Plantation.  The pasture and surrounding lands actually are designed as retention ponds for the community, which come in especially handy during hurricane season.
Deeded to the three community associations which comprise Haile Plantation, the pasture and surrounding lands require regular maintenance and upkeep.  Friends of Haile Pasture is an online community which posts regular updates on activities and events, as well as information on ways that you can get involved in being a Pasture Pal.
This year Friends of Haile Pasture are hosting a "Haile Raising, 'Pine Tingling, Fun' Raiser" on Halloween. Held from 4-8 PM at the pasture, the event will feature a Haunted Trail Walk, cider, chili, games, pizza, and more.  $4 in advance, $5 at the gate.  The event is still looking for sponsors.  For more information, please contact Jan Benet,  jdbenet@webenet.com, 538-3067.