What is synthetic stucco?
Synthetic stucco homes are common in Gainesville. In fact, when you see stucco homes throughout Florida and other parts of the United States, there's a good chance they are not traditional stucco homes but are synthetic stucco homes, also known as EIFS.
Here's the simplest explanation I could find about synthetic stucco, also known as EIFS:
After World War II, buildings throughout Germany were damaged and in need of resurfacing. Exterior Insulation and Finish Systems (EIFS) originated there and came to the United States in the late 1960s. And for decades, Americans have found a number of reasons to use exterior insulation.

When installed properly, it makes buildings more energy efficient.

How Stuff Works
According to EIFS – A Brief History, EIFS was introduced to the United States in 1969 by Dryvit Systems. Prized for its superior insulating properties, cost-effectiveness, and its ability to be designed into a variety of architectural styles, EIFS was primarily used on commercial buildings in the United States until the early 1980's, when it was introduced into the residential building market. By 1980, EIFS cladding accounted for one half of one percent of the residential housing market, and by 1995, nearly 200 million square feet of EIFS were being installed annually on exterior walls in North America.
Synthetic stucco/EIFS was designed as a "barrier system," meaning that its success is dependent upon no moisture ever getting into the building envelope. To remain completely moisture free, all construction steps have to be followed, all flashings have to be properly installed, all windows and doors have to be properly caulked, etc. According to the International Risk Management Institute Inc. (IRMI),
"the properties of the product that make it a good insulator (designed to keep air from moving from the inside to the outside) also make it a poor drainer/ventilator (does not allow water that gets in to get back out)."

Are All EIFS Contractors Created Equal? – Ann Hickman, CPCU, CRIS, ARM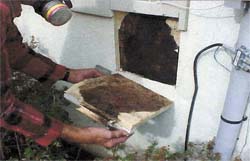 Problems with EIFS and Synthetic Stucco
Problems surfaced in the residential market with synthetic stucco/EIFS because, unlike commercial buildings, residential homes are not framed out with concrete or steel. Instead the EIFS cladding is generally applied over plywood framing, and moisture intrusion combined with plywood do not a very healthy pair make. Adverse effects of moisture intrusion into an EIFS home can include accumulation of moisture in the wall cavity, structural damage, mold growth, and termite or carpenter ant infestation.
In the mid-1990's, 209 EIFS homes in Wilmington, NC were discovered to have chronic moisture problems, resulting in serious mold and structural issues. Thousands of lawsuits were filed in the United States.
insurance issues with EIFS
"From an insurance standpoint, finding coverage for homes built using EIFS can be quite difficult. The product is highly susceptible to moisture and if not properly maintained, homeowners could find themselves with mold issues, which is the primary area of concern for insurance providers," says Bryan Williams, an insurance advisor with McGriff-Williams Insurance in Gainesville.
Drainable EIFS and industry turnaround
Several states outlawed non-drainable EIFS for home building, including North Carolina, New Jersey, and Oregon.
In 1997 drainable EIFS was introduced into the market by EIFS manufacturers. Drainable EIFS systems give moisture that gets behind the cladding a way to escape, greatly lessening the potential for structural and mold problems in synthetic stucco homes.
When synthetic stucco manufacturers created drainable EIFS systems, the industry began to make a turnaround.
Joseph Lstiburek, a forensic engineer, was one of the first people to sound the alarm over the problems created by the non-drainable EIFS cladding. Since the product's redesign into a drainable system, Lstiburek is one of the biggest proponents of using EIFS in residential construction.
Tips for homeowners
A thorough inspection of the home's exterior by a structural engineer or certified EIFS inspector will help the homeowner to determine whether the EIFS system is drainable or not drainable, whether there are currently water intrusion problems, and what steps homeowners should take to maintain their home.
The Exterior Design Institute maintains a list of qualified EIFS inspectors by state. According to its website,
"The Exterior Design Institute is a non-profit organization founded for the purpose of training and certifying Building Envelope and EIFS Inspectors and Moisture Analysts to promote quality control within the construction industry."
Repairs to synthetic stucco homes should be performed by contractors well-versed in the use, maintenance, and application of EIFS.
"Reliable contractors have training certificates or qualification certificates from major EIFS manufacturers. Reliable contractors may also hold an EIFSmart certification from AWCI," says Dennis Rose, a certified EIFS inspector from Ocala and an EIFS Instructor with the Exterior Design Institute.
Tips for homebuyers
Gary W. Jackson, a North Carolina attorney who deals with cases involving construction defects, suggested the following tips for homebuyers considering the purchase of a synthetic stucco home in a 2004 article in REALTOR ® Magazine:
Insist on obtaining all relevant, available information about a stucco home from the seller:
Is the system traditional stucco or is it EIFS?
Have repairs been performed?
Have moisture readings or other inspections been conducted?
Obtain an EIFS inspection on the home (in addition to a regular home inspection).
Some Tips for Maintaining Stucco Homes
This short video presents a few helpful tips about maintaining stucco homes. Even though it talks about stucco homes in Houston, the tips are still relevant.
Synthetic stucco and EIFS – further information
More information on homes built with synthetic stucco/EIFS can be obtained by contacting the National Association of Home Builders Research Center at 800-898-2842.
Synthetic stucco and EIFS – Note to Readers
I am not an expert in construction or synthetic stucco or EIFS. This article is a review of industry literature on the topic of synthetic stucco/EIFS homes. Questions about synthetic stucco/EIFS homes should be directed to an industry professional, who is, I repeat, not me.
Acknowledgements
Many thanks to Bryan Williams from McGriff-Williams Insurance (352.371.7977) and Dennis Rose from the Exterior Design Institute (352-629-0837) for contributing to this article.