How have Gainesville home sales been for the past five years? Here's a quick look at some key sales trends for January through July in the years 2005 through 2009.
Number of Gainesville homes sold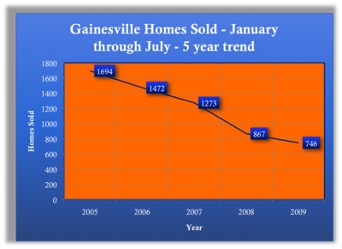 An analysis of Gainesville home sales from January through July for the past five years brings into stark focus the market's decline. So far this year 746 homes have sold in Gainesville, down from 867 in 2008.
Gainesville home prices
Gainesville home prices are on the decline. The median price of Gainesville homes sold in 2009 is $185,804, down from $212,100 last year.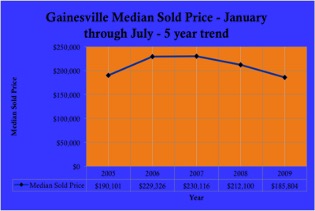 State of national housing market
The National Association of Realtors reports that home prices dropped a record 12.4% in the final quarter of 2008 – the biggest decline in 30 years. –

Home Prices in Record Plunge

– CNN Money – February 12, 2009
What this news means for Gainesville home buyers
Yippee for you! With high housing inventories and low mortgage rates, this is a GREAT time to buy Gainesville real estate.
First time homebuyers have the added benefit of the $8000 tax credit (or 10% of home's purchase price, whichever is less). Free money…what more could you ask for?
Although there's been talk of a tax credit for 2010 nothing has been decided. In order to be eligible for the 2009 first-time homebuyer tax credit, you have to close by November 30, 2009. Given that it takes an average of 45-60 days to close, time is running out on this offer.
What this news means for Gainesville home sellers
If you don't have to sell now, don't.
If you are looking to sell your home in order to move up into a larger home, just keep in mind that the financial beating you are likely to take on the sale of your home will most likely be offset by the deal you will get on the home you plan to purchase.
If you DO plan on selling in this market, here are a few things to keep in mind:
Price it competitively from the get-go. With the glut of housing inventory for sale, the strategy of pricing your home "a little higher but we'll come down later if we have to" is a REALLY bad idea. The most traffic you will get on your home is when the listing first hits the MLS. If buyers think it is overpriced, they may not even visit your home. Since there are lots of homes on the market to choose from, buyers do not seem to have a problem deciding to move on to something else instead.
CONDITION IS EVERYTHING. Get rid of clutter….books, magazines, personal photos, knick-knacks and the like should be packed away and put into storage. Avant-garde paint jobs should be neutralized….ditch those chartreuse and crimson walls in favor of muted natural shades. And those long-forgotten, halfway-finished "honey-do" projects around your home? Finish them before you list your home for sale.
What you think your house is worth isn't nearly as important as what a ready, willing, and able buyer thinks it is worth. Don't be insulted by lowball offers….for the most part they just open the door to negotiations. Focus on your end goal….where do you want to be when the sale is complete? Then take a deep breath, hold that vision in your mind, and head back to the negotiating table. If you do not get what you want, but still end up getting what you need….that is considered a win for sellers in today's Gainesville real estate market.