Gainesville's luxury home market in April 2011 — defined as homes priced from $500,000 on up — is holding its own.
Over the past year from April 2010 to April 2011, 65 luxury homes sold in Gainesville.
Where are luxury homes selling?
Haile Plantation in southwest Gainesville boasted the most luxury home sales, with more than one-quarter of luxury homes sold in Gainesville coming from that community.
More than half of luxury home sales in Gainesville occurred in the southwest Gainesville market area, in no small part due to the strong luxury home sales market in Haile Plantation.
Luxury homes sold in southwest Gainesville
Abbey Glen
Balmoral
Biltmore
Cheney Walk Estates
Cobble Field/Arundel
Haile Plantation
Hayes Glen
Pradera (Archer)
Town of Tioga (Jonesville)
Wilds Plantation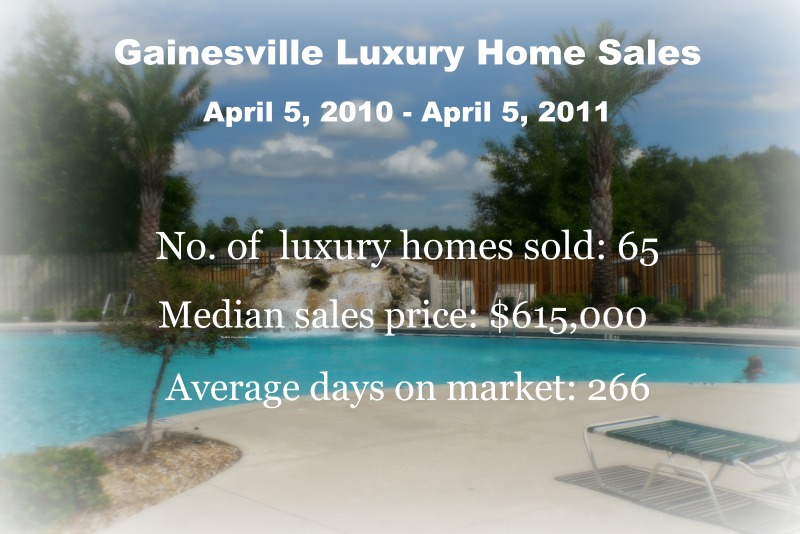 Luxury homes sold in Northwest Gainesville market area
The luxury home market in northwest Gainesville didn't fare that badly either. Thirty-eight percent of luxury homes sold in northwest Gainesville were sold in the Millhopper Road area. Here's a look at the neighborhoods where luxury homes sold in NW Gainesville and the surrounding areas of Alachua and Newberry over the past year.
Arbor Greens (Newberry)
Cadillac Ranches
Hermitage
Maple Hill
Mill Hammock
Millhopper Forest
San Felasco Estates
Santa Fe Forest (Alachua)
Sawbuck
The Grove (Newberry)
Thornehill
Turnberry Lake
Willow Croft
Windsor Glen
Woodfield
Wyndsong (Newberry)
Luxury homes sold outside the Gainesville market area
A smattering of luxury homes sold outside of the Gainesville market area over the past year, including in Melrose (Santa Fe Shores) and Earleton (Bird Beach).