The Gainesville luxury real estate report for November 2012 shows that demand for luxury homes was still soft. Gainesville luxury home sales — that is, homes that sell for $500,000 or more — comprised approximately 2.6% of the Alachua County real estate market through November 2012.
New construction accounted for 24% of Gainesville luxury homes sold through November 2012, with luxury homes being built in Wilds Plantation, Carriage Way, Town of Tioga, Cheney Walk Estates, and Haile Plantation.
Sixty one percent of luxury homes sold in Southwest Gainesville, with the greatest amount of luxury homes being sold in Haile Plantation. Luxury homes in Southwest Gainesville also sold in Hayes Glen, Town of Tioga, Wilds Plantation, Cheney Walk Estates, Abbey Glen, Cambridge Forest, and Cobblefield.
Luxury homes in Northwest Gainesville sold in Thornehill, Sawbuck, Elizabeth Place, Carriage Way, San Felasco Estates, Hermitage, Millhopper Forest, Turnberry Lake, Windy Hills Farms, Splitrail, and Pine Hill Estates.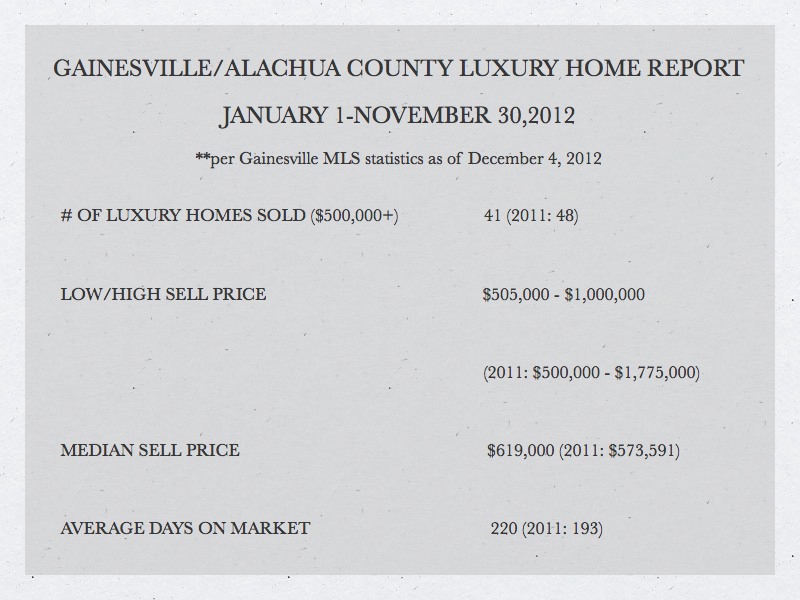 Gainesville's luxury home market experienced a contraction this year, with the amount of luxury homes sold down 14.5% from 2011.
On average it's taken 18% longer to sell luxury homes in Gainesville in 2012 than it did in 2011.