Gainesville Halloween – Pumpkin Patches and Corn Mazes in the Gator Nation
Halloween is right around the corner! Have you scored your pumpkins yet to make jack-o-lanterns? Are you feeling like the world's worst parent because you've left this job until the last minute?
Fear not! There is still time to redeem yourself in the eyes of your children by taking them to one of these awesome area pumpkin patches.
The Halloween Pumpkin Patch at Trinity United Methodist Church located at 4000 NW 53rd Avenue in Gainesville offers bounce houses, hayrides, games, and of course an awesome pumpkin patch. Proceeds benefit the church's local and world missions. The Halloween Pumpkin Patch is open today (Friday October 29) from noon until 8 PM, on Saturday October 30 from 10 AM until 8 PM, and on Sunday, October 31 (Halloween!) from noon until 8 PM.
On Halloween Trinity United Methodist Church will also be hosting a Creepy Crawly Carnival from 5-7 PM, offering treats, games, crafts, hot dogs, and hamburgers. Free.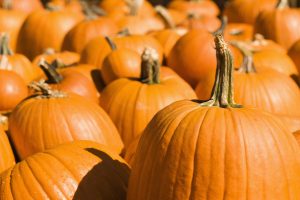 A pumpkin patch is also available at Hodge Farms, located at the corner of S.R. 26 and Southwest 202nd Street in Newberry.
Hodge Farms is also the site of the Newberry Cornfield Maze, which is open from 3-11 PM Friday and Saturday, and from 2-5 PM on Sunday. Daytime is the best time to bring young kids through the corn maze. Nighttime is definitely for those who prefer their corn maze much, much creepier. Bring a flashlight and bug spray. Admission: $7 adults, $5 for ages 10 and younger. Phone 352-373-4652  http://www.newberrycornfieldmaze.com/
And speaking of corn mazes, Coon Hollo Farm in Micanopy offers a 5 acre maze, cow train, hayrides, and more. 22480 N. Hwy. 441, Gainesville. Phone: 352-591-0441  Admission: $6-$8 Visit http://coonhollocornmaze.com for more information.
Happy Halloween!