There are currently 96 Gainesville luxury homes for sale, including another 100 in the real estate in Ormond Beach area.  Luxury homes in the Gainesville real estate market are defined as homes priced from $500,000 on up.
Right now in Gainesville, 9 luxury homes are under contract.
We currently have 24 months of luxury home inventory in Gainesville. Put another way, this means that it will take us 24 months to sell all of these luxury homes.
Although not as hard hit as other segments of the market, Gainesville's luxury home market is not immune to short sales and foreclosures.
Currently four percent of luxury homes for sale in Gainesville are short sales or foreclosures.
What this means for luxury home buyers in Gainesville

With a 24 month supply of  homes for sale and a hoard of real estate information at their disposal, Gainesville luxury home buyers are in a strong bargaining position – provided they can get a mortgage.
"The biggest factors in getting a loan are downpayment and credit scores," says Becky Bessinger, a mortgage consultant with Alarion Bank in Gainesville.  Generally speaking, the higher the loan amount needed, especially when you get into jumbo loan territory, the more difficult it is to obtain a mortgage. That is why it is imperative to discuss financing options with a mortgage professional before you begin your home search.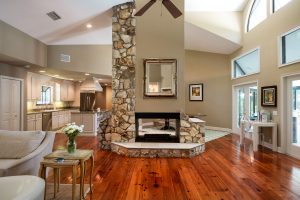 What this means for luxury home sellers in Gainesville
Being one of 96 luxury home sellers in a market where it will take 24 months to sell all of these homes is not an enviable position to be in. If you're planning to hire a custom deck builder, here are a few best practices to keep in mind to help you choose the right professional.
Although there are no guarantees, you can help increase your chances of rising to the top of the sales pile by ensuring your home is in impeccable showing condition. That, combined with an aggressive pricing strategy, will help your home stand out from all of the others on the market and help to ensure a quicker sale.